Tunde Akinyele has been practicing law in the Metropolitan Atlanta area for the past 13 years. He is a former Senior Assistant District Attorney with the DeKalb County District Attorney's office, where he handled serious criminal offenses including burglaries, armed robberies, sexual assault cases, crimes against children, white collar, and homicide cases. Tunde is an experienced trial lawyer and will aggressively defend your rights, with a strong criminal practice, including traffic offenses, misdemeanors, DUI, minor and major drug offenses, and minor and major felony cases.

Our firm also has an immigration practice, including Family Immigration, Green Cards, Naturalization, and Removal Proceedings.

Additionally, we handle personal injury and wrongful death cases. If you have been injured, please call us to help protect your rights.

Tunde is admitted to practice law in Georgia's State and Superior courts, the Court of Appeals, the Supreme Court and the United States District Court for the Northern District. He is a member of the Georgia Association of Criminal Defense Lawyers, the DeKalb County Bar Association, and the Georgia Hispanic Bar Association. Tunde Akinyele speaks Spanish and communicates in French.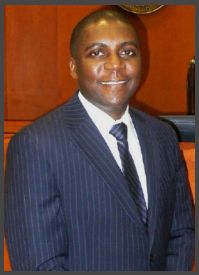 Tunde Akinyele
Tunde has personally handled thousands of cases, including motions, bond hearings, preliminary matters, and has tried over 100 cases including several complex jury trials throughout his career. While in law school, Tunde was an intern with the Chief Judge of the Georgia Court of Appeals and the Presiding Justice of the Georgia Supreme Court, where he learned the inner workings of the appellate system. He was also a member of the Moot Court Board and the Student Trial Lawyers Association, where he represented Georgia State University College of Law in several moot court and mock trial competitions. His educational background is as follows:

Law Degree: Georgia State University College of Law, 2000, and received the following honors: At Georgia State University, Tunde was chosen to be a member of the Bleckley American Inn of Court, a select group of students chosen to learn from seasoned professionals. He was a member of the Moot Court Board, where he placed in the top five students in oral arguments and overall advocacy. He was the Secretary of the Student Bar Association from 1998-1999 (and he today remains as the class representative of the College of Law's Alumni Council). He was the Vice-President of the Student Trial Lawyers Association from 1999-2000. In 1999, he received the American Trial Lawyers Association's Richard D. Hailey Scholarship for outstanding trial advocacy. Additionally, he received the highest grade in comparative civil litigation. Tunde was extremely successful in moot court and mock trial competitions. In 2000, he was an advocate on the first-place team at the ATLA Student Trial Advocacy; he went undefeated in five competition rounds and advanced to the national competion. He was a participant on the semi-final team at the ABA National Appellate Advocay competition, and also went undefeated in four rounds of oral arguments. In addition, he was on the national championship team at the 1998 William Daniels National Invitational Mock Trial competition. Tunde also attended a summer program in International Commercial Arbitration and International Civil Litigation at the University of Linz, Austria in 1998.

Graduate Degree: Mercer University Stetson College of Business Administration, Masters Degree, 1997. Tunde attended Mercer Universtity, Atlanta from 1995 through 1997, while working for a health care boutique law firm in Decatur. He graduated with a degree in Business with a concentration on Health Policy and Administration. Honors: Awarded the Faculty Award for Outstanding Academic Achievement.

Undergraduate Degree: University of South Carolina, Bachelor of Science in Biology, 1987. Tunde brings a wealth of real-world experience to the practice of law. After graduating from the University of South Carolina, he worked in the environmental and hazardous waste industries for seven years prior to attending law school.